Title: Rev. Shugei Address at the New England Peace Pagoda
Artist: orangeink
85 plays
Elder monk Shugei Shonin sends a message for the Leverett Pagoda's 28th Anniversary.
Unfortunately he was unable to attend in person, speech read by Mia Niwa.



Grafton Pagoda 20th Anniversary
via the Monastics at the New England Peace Pagoda
The crises which we are together facing both in our human society – the degradation of humanity through  war and massive impoverishment, and in the natural world – catastrophic disasters and the poisoning of water, earth, and air – all are caused  by the extreme materialism of our culture. This materialism was forcibly imposed over the spiritual civilization of the Original People of this continent.  We must return to a spiritual civilization to find the way to live in peace.
"If the minds of the people are impure, their land is also impure, but if their minds are pure, so is their land. There are not two lands, pure or impure. The difference lies solely in the good or evil of people's minds. It is the same with a Buddha and a common mortal. While deluded, one is called 'a common mortal' but once enlightened, one is called a Buddha. Even a tarnished mirror will shine like a jewel if it is polished. A mind which presently is clouded by delusion is like a tarnished mirror, but once it is polished, it will become clear, reflecting the enlightenment of immutable Truth. Arouse deep faith and polish your mirror night and day."  "On Obtaining Buddhahood," by St. Nichiren, 13th Century Buddhist monk, founder of the practice of Na Mu Myo Ho Ren Ge Kyo.
"The religious faith that Native Americans have carried to this day will be the source for forging lasting peace in the times to come. "excerpt from the Dharma  talk given by Most Venerable Nichidatsu Fujii  at the culmination of The Longest Walk, July 16, 1978, Washington DC.
Na Mu Myo Ho Ren Ge Kyo
Unless the United States is reformed peacefully, peace will not come to the world. As the original inhabitants of this country, First Nation Peoples have a responsibility to help change America's pattern of mistaking power for justice, which has created a dishonorable history. As victims of the atom bomb, Japanese people also share this Karmic responsibility to help change the way of thinking of the United States at this time when humanity faces annihilation. Thus, we must join with First Nation Peoples to open a new path of existence for the United States—a peaceful and sacred way of life for all humanity. Let us rise together.               (Venerable Nichidatsu Fuji, August 12, 1978)
Dear Friends of Grafton Peace Pagoda,
Since we first came to this land we have seen many snow-filled winters, many springs sweet with apple flower blossoms, and many autumns filled with the brilliant red of the changing maple leaves. Our lives too have seen many changes: children we knew as babies now have babies of their own; many of you are now grandparents who were young men and women when we first met.
All through those years we have organized countless peace walks, walking the earth and praying together for peace. For nine years leading up to the completion of Grafton Peace Pagoda, so many neighbors, fellow peace walkers, and friends from around the world came to help with the construction. We worked together as one, using recycled wood and mixing concrete by hand, and the Peace Pagoda was finally inaugurated in 1993.
We will celebrate the 20th anniversary of our beloved Peace Pagoda at 11am on Saturday, October 5, 2013.
In the 20 years since the inauguration, we have welcomed visitors from all over the world. People of all different faiths and ancestries have joined with us here for countless ceremonies and commemorations. Every day, friends come and go like the breeze. Twenty years also marks the cycle of one generation. As a new generation comes of age, we want to transmit our message of peace to them and share the story of how the Peace Pagoda arose on this land. We invite you to join us as we celebrate the 20 together.
Bowing Three Times,
Jun Yasuda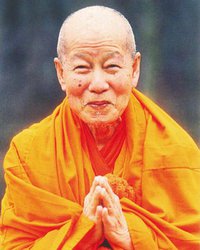 "There is a Bodhisattva named Bodhisattva Never Despise who appears in the Lotus Sūtra and who practices the teachings of the Lotus Sūtra. He bows and pays reverence to whomever he meets with folded palms. He is a monk, but does not read sūtras. Before anything else he bows and venerates others. At a time of decline of the Buddha Dharma when the hearts of the people are hardened and dissolute, lecturing others based on academic learning will not do to cure them. In terms of sophistry one cannot win. Bodhisattva Never Despise only bows and venerates, and speaks of the significance of his veneration. He bows and utters the words of "I deeply respect you. I shall never despise you for you shall eventually become Buddha." When hearing these words and receiving veneration maybe one in a thousand might start to think whether he or she has the seed to Buddhahood, or something that deserves veneration by others. This is the only way to emancipation. If we were to say that we would not venerate others because they do not venerate us, nothing good would come out of it. A likely outcome would be a spat. We must find the reverend in our heart and mind if we wish to lead a noble life. If our eyes are opened to see the reverend within our heart and mind, we find everyone we see reverend. Everyone becomes the object of veneration. That is when peace will prevail in the world."
May 6, 1978. Atami Dōjō, Japan. Venerable Nichidatsu Fujii. Translated by Yumiko Miyazaki
Setsubun Ceremony 2013
"Oni wa soto! Fuku wa uchi!"
Get out ogre - come in happiness!

Sunday February 3rd, at guests and monastics at the New England Peace Pagoda rang in the Year of the Snake with a traditional Setsubun ceremony.


Tibetan Prayer Flags at the Peace Pagoda.
By Steve Renshaw and Saori Ihara

February, 2000
(Revised January 2013)

On February 3th of 2013, Setsubun will be celebrated throughout Japan. Falling at the end of the period defined by the solar principal term Daikan (Severe Cold), Setsubun occurs one day before the sectional term Risshun (Spring Begins).